Skymark Flying between Sapporo and Asahikawa, 2nd Route not Servicing Haneda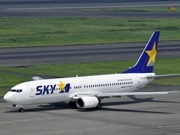 Skymark's Boeing 737.
Enlarge this image
Enlarge this map
Skymark Airlines opened its seventh route in Japan on April 1, which runs between Sapporo and Asahikawa. The airline is flying the route roundtrip on a daily basis with a Boeing 737 that seats 177.

Skymark had previously flown five routes in Japan out of its hub and operating headquarters at Haneda Airport, servicing the cities of Sapporo, Asahikawa, Kobe, Fukuoka and Naha, but on March 7 it opened a route between Fukuoka and Naha. This makes the new Sapporo-Asahikawa route the second other than the ones out of Haneda. The only other routes the carrier had flown between regional airports were from Osaka (Itami) to Fukuoka and Sapporo from 1999 to 2000, and between Kobe and Naha in the summers of 2007 and 2008.

According to an airline publicist, the route itself meets demand for air travel within Hokkaido while also providing travelers a new option as the second leg of a journey from Haneda to Asahikawa via Sapporo. The same logic is at work behind the Fukuoka-Naha route started up last month: it is not just to service the air travel market between Kyushu and Okinawa, but also to complement the Haneda-Naha route. The publicist said, "We planned to make effective use of our limited equipment (aircraft and such) and improve operating cost efficiency."

Skymark has announced goals of making its Kobe-Naha service available year-round and of operating a route between Kobe and Sapporo. Company President Nishikubo revealed his intention last month for the airline to fly between Naha and Ishigaki when New Ishigaki Airport opens in 2013. The carrier reportedly aims to expand its network of routes with high operational efficiency while responding to changes in the aviation market and airport improvements. Skymark currently owns two Boeing 767s and nine 737s. According to estimates, its average passenger load factor was about 75% as of 2008.