Retro Air France Flight Attendant Uniform Exhibit at Kansai Airport - 40th Anniversary of Service to Osaka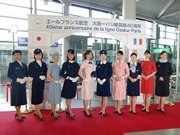 The Air France gate function for the 40th anniversary of Osaka operation. Photo: Kansai International Airport.
Enlarge this map
On January 19, six generations of Air France flight attendant uniforms have been on display at Kansai International Airport in Izumisano, Osaka Prefecture.

The event is commemorating Air France's 40 years of service to Osaka in January this year. At the commemorative ceremony held on January 5, regular visitors to the airport were able to enjoy some of the ten uniforms presented and a limited time business area was opened in the airport. The uniforms on display were worn by Air France flight attendants from 1951 to 1997. According to the airport, this is the first time that Air France uniforms have been simultaneously put on display on this scale.

The exhibit is on the north side of the Sky Shop Town Satellite on the second floor of the passenger terminal and will be open until January 31.