"Japan Must Address Cost Issues to Build Competitiveness" - IATA Director General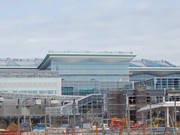 Haneda Airport's new international terminal under construction.
Enlarge this image
Enlarge this map
During a meeting with Minister of Land, Infrastructure, Transport and Tourism Seiji Maehara on April 12, Director General Giovanni Bisignani of the International Air Transport Association, an organization headquartered in Montreal, Canada formed by the world's airline companies, expressed the view that the Japanese aviation market needs to be more competitive through better infrastructure and cost efficiency.

While the Director General stated that "IATA fully supports Minister Maehara's vision to increase the competitiveness of Japan's air transport sector with more efficient infrastructure," he also indicated that "to turn the vision into reality, urgent action is needed to address cost issues." Specifically, he referenced lowering charges for international operations at Haneda Airport so as not to miss "a great opportunity" for growth, the need for changes to infrastructure, costs and services at Narita and Haneda so that they can compete with international hubs in China and Korea, and rethinking regarding the number of airports (runways) in Japan.

Meanwhile, Bisignani praised the aviation liberalization (open skies) agreement with the U.S. as a "historic achievement." He also mentioned the Japanese aviation industry's 100% Bar Coded Boarding Pass target for the end of this year and commended those involved in the initiative, saying, "Japan has always been a leader in new technology for passenger processing."

About 230 companies, or 93% of all airlines operating commercial flights worldwide, are IATA members.