Full-Body Scanners at Narita Airport - MLIT Tests on General Travelers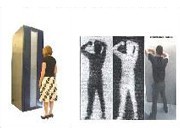 Images of a full-body scanner in use. Photo: MLIT
Enlarge this map
On June 18, the Ministry of Land, Infrastructure, Transport and Tourism announced that it will conduct tests of the latest full-body scanners on passengers passing through security at Narita International Airport to ensure safe aircraft operations from July 5 through September 10. These will be the first such tests at a Japanese airport.

The scanners can detect chemicals and other explosive materials that traditional metal detectors cannot. They are in use at major U.S. and U.K. airports to thwart terrorist attacks. However, the scanners use millimeter waves that penetrate clothing and render clear and accurate images of the subject's body parts, raising privacy concerns among travelers. The MLIT established a Body Scanner Testing Executive Committee and examined how to introduce the equipment at airports in Japan, and it has now decided to complete a compilation of specific testing methods and use the technology at Narita on a trial basis. Five scanners of two types will be installed in front of the security checkpoint in the South Wing of Terminal 1, where each will be used over a five-day period on consenting Japanese travelers.

Operating procedures for each scanner type will be established. Subjects will be able to choose the scanner operator or will be scanned by security personnel of the same gender, while images that clearly render the subject's body will be analyzed where they cannot be seen by others. Other security personnel will not be able to enter the room, subject's faces will be blurred and hidden and images will be erased, not saved, in order to protect privacy. Following testing, the executive committee plans to evaluate the scanners' detection capabilities and passenger response, then examine how to fully implement the technology.