Free Mobile Phone Charging Stations Set Up by Samsung Electronics at Haneda Airport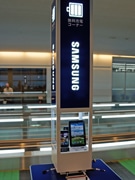 The Mobile Charging Stations for recharging cell phones.
Enlarge this image
Enlarge this map
The Mobile Charging Stations for recharging cell phones set up in November in the domestic passenger terminal at Haneda Airport in Ohta Ward, Tokyo have been a hit among air travelers.

The Samsung Electronics-built stations have been set up at seven locations in Terminal 1 and five locations in Terminal 2. They can charge up to 72 devices at a time and are compatible with Samsung Electronics smartphones as well as mobile phones from Japan's three major carriers (Docomo, au and Softbank), with the exception of some smartphones. These are the first mobile phone chargers in the terminals that are free to use for the general public.

"Mobile phones and smartphones are essentials for business trips, but I'm always worried about battery life. [A charging station] is the kind of service I want most while waiting at the airport," said a businessman in Terminal 2 traveling to Osaka's Itami Airport as he satisfyingly connected his cell phone's charging cord.

According to a publicist from Samsung Telecommunications Japan Co., which developed the stations, this is the first time for the company to set up the equipment in a domestic airport and it will observe user reaction to consider whether to expand the service to other airports.