Joint Promotional Site by 7 Airports in Sanin-Sanyo Region - Tourist Information and Quiz Rally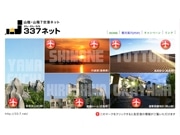 Screen capture of 337 Net
Enlarge this image
Enlarge this map
Seven airports in the Sanin-Sanyo region have come together to launch an updated version of Sanin-Sanyo Seven-Airport Network: 337 Net, a joint promotional site to bring visitors to the region's airports and offer tourist information.

The site is run by the Chugoku Region Airport Building Liaison Conference and the Sanin-Sanyo Airport Network Office, created by airport passenger terminal operators at seven airports: Tottori, Yonago, Izumo, Hagi Iwami, Okayama, Hiroshima and Yamaguchi Ube Airports.

Until recently, the site was simply a collection of links to the airports' official websites, but the design and content have been completely overhauled under the integrated effort to promote the entire region. Photos of picturesque scenery, buildings and other such tourist attractions from each prefecture appear on the top page, while other pages contain general descriptions of each airport and a tourist map of the entire region. There are also links to two other airports in the region, Hiroshima Nishi Airport and Oki Airport.

The site is also putting on the Seven-Airport Quiz Rally from October to December in conjunction with its updated launch. The questions and prizes change with each month, and entry forms can be found at the website.

Six winners will be selected from among contestants who submit correct answers for the first round in October to receive one of the following locally produced gifts from each prefecture in the region: Zuwai Crab (Tottori), Nitamai Rice (Shimane), Kanjuku Tomato Jelly (Okayama), a Kumano brush (Hiroshima), or a tiger pufferfish cooking set (Yamaguchi). Future prizes will include Shimane beef for November, and Japanese citron products and airport souvenirs for December (subject to change).

A spokesperson from Yonago Airport who is in charge of the site update expressed a desire for further development of the project, saying, "We want to bring together tourism promotion campaigns on a regional level and proactively provide tourist information on each airport and area."