Expanded Terminal and Parallel Taxiway to Open at Iwate Hanamaki Airport in July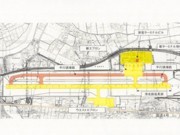 Iwate Hanamaki Airport
Enlarge this image
Enlarge this map
The passenger terminal expansion and parallel taxiway at Iwate Hanamaki Airport in Hanamaki, Iwate Prefecture will open on July 28.

The announcement was made by Iwate Prefecture's status report on the airport improvement project. The expansion to the terminal building will include new facilities such as an international check-in counter and luggage handling for departing passengers. This will allow for departing passengers on domestic and international flights to be handled separately while regular commercial flights will be able to operate at the same time as international charters.

The airport improvement project will expand airport functionality for the operation of international charter flights on larger aircraft. The current terminal, with over 7,600 square meters of floor space, opened in April 2009 on the east side across the runway from the old one. It has more services and facilities including restaurants, stores and a local product display corner as well as an event area.

In addition to commercial flights connecting Iwate Hanamaki to New Chitose Airport in Sapporo and Itami Airport in Osaka operated by Japan Airlines Group (JAL), Shizuoka Prefecture-based Fuji Dream Airlines Co., Ltd. (FDA) will offer service to Komaki Airport in Nagoya on a limited schedule, which the carrier is calling "earthquake recovery support flights."