Green FDA Aircraft Becomes Matsumoto City Tourism Ambassador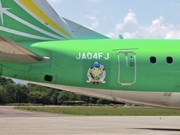 FDA's aircraft marked with the Matsumoto City mascot.
Enlarge this image
Enlarge this map
On July 15, an aircraft operated by Makinohara, Shizuoka Prefecture-based Fuji Dream Airlines Co., Ltd. (FDA) was appointed a tourism ambassador of Matsumoto, Nagano Prefecture, a city whose airport is served by the airline.

FDA's fourth Embraer aircraft, a 76-seat ERJ-170, has been painted with green livery reminiscent of the Japan Alps. The aircraft was delivered to Shinshu Matsumoto Airport, where it is registered and based. Since the aircraft has been appointed Matsumoto's tourism ambassador, the city's mascot, Alp-chan, has also been painted on the rear fuselage. "This could be the first time a jet has been named a municipality's tourism ambassador," said an aviation industry insider.

FDA began flying to Shinshu Matsumoto in October of last year, with daily flights to and from Sapporo and Fukuoka following the withdrawal of Japan Air Lines Co., Ltd. (JAL) from the routes. Each of FDA's aircraft (ERJ-170s and 175s) are painted a different color under the airline's "multicolor concept." The first is red, the second light blue and the third pink. The color of the fourth aircraft was chosen in a vote that was open to the general public prior to commencing service on the Matsumoto route in July. Green was the winner because it is reminiscent of alpine scenery and "Yamaga green" is the official team color of the Matsumoto Yamaga Football Club, the local Japan Football League (JFL) team. FDA has stated that green is "also the color of the tea leaves grown in Shizuoka Prefecture," where the airline is headquartered.

PR efforts on the tourism ambassador airplane to attract tourists to Matsumoto will include the distribution of sightseeing pamphlets on board.