Koshihikari Sanchi Tabekurabe Set at Niigata Airport Store - More Local Specialties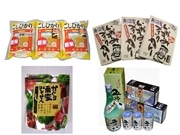 Local Specialties at Niigata Airport
Enlarge this image
Enlarge this map
Acacia, a store on the first floor of Niigata Airport's terminal building (Niigata, Niigata Prefecture), has enhanced its unique lineup of local specialties.

The store is under the direct management of Niigata Airport Building, the same company that manages operations at the airport's passenger terminal. It handles a wide variety of goods made in Niigata such as reputable cakes, specialty items, marine products, rice, local sake, microbrews, wine, folk crafts and sundry goods. The store also works hard to introduce limited items and local products unique to Niigata.

The lineup of new products includes the popular Koshihikari Sanchi Tabekurabe Set bags holding three brands of rice from Uonuma, Iwafune and Niigata (1.6 liters in total for 825 yen); Kikusui Shuzo Gorohachi, a nigori sake with a simple taste and only available in fall and winter (291 yen for 180 milliliters, 910 yen for 720 milliliters); and the standard Kaki Chocos, White Kaki Chocos and Cafe Ole Kaki Chocos (250 yen per 100 grams). In addition to these, the fresh seafood shop is selling their special Ikasumi Black Curry made with squid from the Sea of Japan and Hokkaido green onion (630 yen per 200 grams), as well as Kagura Nanban Misosen, a salty rice cracker with "tasty and spicy miso" using kagura nanban (a kind of pepper) made in Uonuma (400 yen). Plenty of unique local products are available.

According to a company management official, makers of local Niigata goods have been replenishing stocks and making sales as their products have been showcased at the airport. There is a relatively high number of visitors from outside the prefecture, from places like Hokkaido, Kansai and Kyushu. The company is also going out of its way to introduce the store at the airport's website. In addition to making their sales pitch to a large segment of airport visitors, the company wants to let local residents know about the ample lineup and encourage people to visit the store as a place to buy gifts, too.