New LCC Terminal to Open at Centrair in Late 2014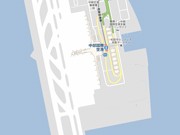 A news LCCT will open at Centrair.
Enlarge this image
Enlarge this map
Chubu International Airport (also known as "Centrair") in Tokoname, Aichi Prefecture, outside Nagoya, announced a plan on March 29 to build a new terminal solely for low-cost carriers (LCCs). It aims to open the building in late 2014.

Chubu has considered the move as domestic LCCs have expanded service to the airport. The new terminal will be a standalone building south of the south wing, where the main terminal's gates for international flights are. With a floor space of roughly 30,000 square meters, it will allow Chubu to handle up to 3 to 5 million travelers a year including both domestic and international flights. The apron next to the LCC terminal will be built with flexibility in mind to allow different types of aircraft to park on it. Chubu will also construct a new parking garage in front of the building.

The LCC terminal will cut costs for airlines and passengers by simplifying equipment and services. Its compact, functional facilities are expected to allow the terminal to handle a variety of operations for airlines based at Chubu. To ease congestion during peak hours the terminal will also allow non-LCC Japanese and foreign carriers seeking cost-efficient operations to use the building as well.

AirAsia Japan Co., Ltd. and Jetstar Japan Co., Ltd. commenced service to Chubu on March 31, and both carriers plan to add more routes to the airport, including international.