JAL Livery to Send Message of Support to Tohoku with Facebook Icons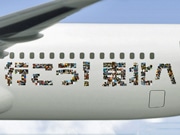 Conceptual image of the JAL livery with Facebook icons.
Enlarge this image
Enlarge this map
The Japan Air Lines (JAL) Group will begin flying an aircraft with special livery in December. The words "Let's go to Tohoku!" (in Japanese) formed from Facebook user icons will be painted on its body.

The special livery is a part of JAL's Tohoku Support Project, which began in June. The airline is gather photos and other "icons" of consenting Facebook users to combine them and form the message of support along the airplane's body. By flying the aircraft across Japan, JAL hopes to "revitalize the disaster zone's tourism and industry by bringing the Japanese people's interest back to the disaster-stricken area and getting more travelers to visit the Tohoku region of northeastern Japan."

JAL has set up a special website in Japanese providing details on the project, where visitors can submit their icons (providing they first have a Facebook account).

The site also shares information on a JAL program seeking 1,000 people to contribute cherry blossom trees to Tohoku. JAL will donate one tree for each program participant to the Onagawa Sakura Conservation Society, a group formed to make the town of Onagawa, Miyazaki Prefecture, where most of the cherry blossom trees were washed away by the March 2011 tsunami, a place surrounded yet again by the beautiful trees.

Icons can be submitted for the "Let's go to Tohoku!" project until October 31.