Integration of Roundtrip Fares on ANA from Haneda to 3 Hokuriku Airports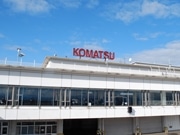 Komatsu Airport Terminal
Enlarge this image
Enlarge this map
ANA made public that starting in April this year, reduced roundtrip fares will be integrated for trips on routes connecting Haneda with three Hokuriku airports: Toyama, Noto and Komatsu.

The discount fare system until now has been only applicable to roundtrip itineraries to the same airport, but this program applies the reduction to arrivals and departures at any of the three Hokuriku airports. For example, with an itinerary taking you from Toyama to Haneda, followed by a return trip to Noto or with a trip starting from Haneda to Komatsu and flying from Toyama back to Haneda, the reduced fare still applies, even though the route taken is different for the outbound and return trips. In addition, if changes to reservations are allowed, passengers can change their destination between the three airports right up until boarding time.

With the 2014 opening of the Hokuriku Shinkansen (bullet train) running until Kanazawa in mind, fare discounts are being introduced for use on a diverse array of itineraries with the goal of vastly increasing demand for air travel between the Tokyo area and Hokuriku.

ANA started the same kind of multi-airport program in July of last year between Fukuoka, Kitakyushu and Saga, and it has received a positive response among business travelers and others. Hokuriku will be the second implementation of the program other than the metropolitan Tokyo and Kansai areas.

Reservations under the new fare system will start February 1.