JAL Makes General Call for Models to Appear in "JAL Shop" Inflight Shopping Magazine on Domestic and Int'l Flights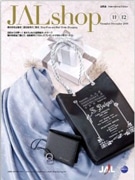 The inflight magazine "JAL Shop."
Enlarge this map
Japan Air Lines Co., Ltd. (JAL) is now making a general call for models to appear on the airline's website and in its inflight magazine "JAL Shop" provided on its domestic and international flights.

The magazine is an inflight shopping catalog featuring limited supply JAL merchandise, hot-selling products and more. The bimonthly magazine is published every odd numbered month with approximately 750,000 copies for domestic and 450,000 copies for international flights. Under JAL's concept of "creating a fun inflight shopping experience for passengers," the publication will be the first inflight shopping catalog produced by an airline to recruit models from the general public in order to promote some of the featured merchandise.

Applicants must be men or women ranging in age from their late 20's to late 50's who have used JAL's inflight shopping and who can be interviewed and photographed on a weekday. People affiliated with a modeling agency as well as those who are not are free to apply. Applicants should use the entry sheet at the company's website and affix a photo to it. Check the website for details.

The deadline for the first round of entries is July 30 (no exceptions). A number of models will be recruited for each issue starting with the May/June issue scheduled for domestic and international release on May 1. The deadline for the second round will be posted at a later date at the company's website.