ANA to Test World's 1st Boeing 787 at Haneda, Itami, Kansai, Okayama & Hiroshima in July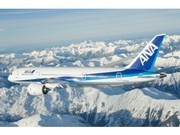 ANA is the launch customer for Boeing to operate the latest wide body jet B787 Dreamliner.
Enlarge this image
Enlarge this map
On May 26, All Nippon Airways Co., Ltd. (ANA) and U.S.-based Boeing Company announced the 787 Dreamliner, Boeing's latest mid-sized passenger jet, will fly to Haneda Airport on July 3 as part of a program for verification of equipment at Japanese airports.

ANA will be the world's first airline to introduce the aircraft. Prior to receiving its first jet scheduled for delivery in August or September, ANA and Boeing will use one of the aircraft to inspect facilities at Japanese airports, flying on four routes connecting Haneda with Itami, Kansai, Okayama and Hiroshima between July 4 and 8 in order to check the suitability of each airport's operations including refueling, aircraft stands in hangers, airport gates and towing.

The 787 significantly reduces fuel consumption with features such as its new lightweight materials, allowing for high operational efficiency and long flight range. Japanese manufacturers have also participated in developing the jet's parts. Expectations are high for the 787, which will be used as a next-generation ANA aircraft on both domestic and international routes. Aviation industry insiders and aviation enthusiasts alike have long been awaiting its arrival at Haneda as delivery of the first aircraft was pushed back by over three years due to development delays.

ANA, which plans to eventually operate fifty-five Dreamliners, has launched a special website called "We Fly 1st" to provide detailed information on the 787 and promote its first ever commercial operation.