Narita Forms 9th Int'l Sister Airport Relationship with Singapore's Changi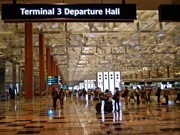 Singapore Changi Airport Terminal 3.
Enlarge this image
Enlarge this map
On May 23, Narita International Airport concluded a sister airport agreement with Changi Airport Group (CAG), the manager and operator of Singapore's international airport.

The sister airport relationship between these two Japan and Southeast Asia hubs has further confirmed their "strategic cooperative relationship" to further build and expand aviation networks while offering high-quality traveler services. In the future, the two companies will encourage greater sharing of ideas and information concerning airport operation and management techniques, as well as hold regular meetings with an eye towards possible joint projects.

Narita's sister airport relationship with Changi is its ninth with airport operators and airports outside Japan after forming such partnerships with Korea Airports Corporation (KAC), the Port Authority of New York & New Jersey (PANYNJ), Frankfurt Airport, Pulkovo Airport (St. Petersburg), Incheon International Airport Corporation (IIAC), Abu Dhabi Airports Company (ADAC), Beijing Capital International Airport (BCIA) and Airports of Thailand (AOT).