StarFlyer Purchases 1st Fully-Owned Aircraft "Heart of Kitakyushu" as 8th Addition to Fleet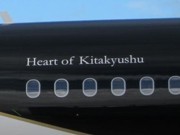 StarFlyer's 8th aircraft has the nickname "Heart of Kitakyushu."
Enlarge this image
Enlarge this map
StarFlyer Inc., based in Kitakyushu, Fukuoka Prefecture, received delivery of the eighth aircraft in its fleet on December 14, which the airline purchased (rather than leased) for the first time.

Written on the body of the Airbus A320 is the nickname "Heart of Kitakyushu." With the delivery of its first fully-owned aircraft coming on the tenth anniversary of StarFlyer's founding, a statement from the airline said it expresses the gratitude the company feels towards the city of Kitakyushu where it is based.

StarFlyer is scheduled to receive its ninth aircraft in March 2013. Both the new planes are twin-engine aircraft capable of flying on only one engine in case of emergency, and are ETOPS (an acronym for "extended operations") certified, meaning they can fly over water (or land) for a certain period of time. Thus the company's mid-term business strategy includes plans to introduce medium- and long-haul international routes to destinations such as Guam.

StarFlyer currently flies 42 domestic flights a day (i.e. 21 roundtrip journeys) on three routes connecting Haneda with Kitakyushu, Fukuoka and Kansai, as well as four international flights a day (i.e. 2 roundtrip journeys) between Kitakyushu and Busan, South Korea. A "hybrid airline" that is neither a legacy carrier nor a low-cost carrier (LCC), StarFlyer is pursuing an original business model that "offers higher quality service than legacy carriers at a more reasonable price."