MRJ Mockup at Nagoya Airport Observation Deck - Cabin from Early Stage of Development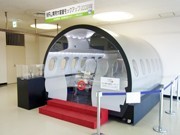 A life-size mockup of the cabin in the Mitsubishi Regional Jet (MRJ) at Nagoya Airport.
Enlarge this image
Enlarge this map
A life-size mockup of the cabin in the Mitsubishi Regional Jet (MRJ), Japan's first domestically produced small jet, opened on February 17 at Nagoya Airport. The exhibit is located in the multipurpose hall in front of the passenger terminal's observation deck. Nagoya Airport, in Toyoyama, Aichi Prefecture, is operated by the Aichi prefectural government. It is also known as Komaki Airport.

Mitsubishi Aircraft Corporation, the Nagoya, Aichi Prefecture-based company developing the MRJ, made the model in 2008. It is a segment from the plane's fuselage, based on an early-stage design. Mitsubishi Aircraft installed it at the observation deck to help commemorate the airport's 8th anniversary. The model is 2.3 meters tall, 3 meters wide and 3.3 meters long. The cylindrical space is a cross-section cut from the part of the fuselage containing the cabin, thus allowing a view of the exterior as well as the interior, with its leather seats and other amenities. The model has been exhibited at airshows around the world such as the Farnborough International Airshow in the United Kingdom to publicize the MRJ's development concept, specifications, features and more to global markets. Mitsubishi Aircraft says that the model "has served its purpose" now that the company is moving on to actual production of the MRJ, so it donated it to Nagoya Airport Terminal Building Co., Ltd., the company that administers and operates the passenger terminal.

The MRJ's final assembly plant sits next to Nagoya Airport. The airport has been the de facto development center for the aircraft. The MRJ's maiden flight will take off from here in October of this year or later. A spokesperson from the airport's managerial department said, "Having the mockup displayed here should get visitors to the airport even more excited about the MRJ's maiden flight."

The MRJ, with seating for 70 to 90 passengers, will have advanced features to reduce fuel consumption and the plane's environmental impactA, as well as enhance cabin comfort. Mitsubishi Aircraft has already taken 325 orders for the MRJ from clients such as SkyWest Airlines, operated by SkyWest Inc. in the United States. Deliveries of mass-produced MRJs are set to begin sometime during the second half of 2015.

The Nagoya Airport observation deck is open from 7:00 a.m. to 6:45 p.m. Along with the mockup is a miniature MRJA and information panel, as well as a large title banner visitors can pose with when taking pictures. Admission to the hall is free of charge.