Info Staff Armed with iPads at Haneda Terminals Helping Travelers and Finding Lost Children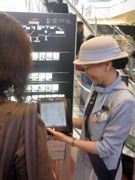 "Airport Concierges" at Haneda Airport use iPad to assist passengers and visitors.
Enlarge this image
Enlarge this map
Haneda Airport began using iPads on April 1 to provide travelers with information.

To improve convenience and safety through speedy delivery of information to airport visitors, the airport began providing the iPads to wandering information staff ("Airport Concierges") and information kiosks in Terminals 1 and 2, which handle domestic flights.

Using one of the tablets, a person can view documents such as digital pamphlets about the terminals as well as search for on-the-spot info on flights, stores, merchandise and more. In addition to making its information staff work more efficiently, Haneda also introduced the iPads to provide them with a "terminal paging registration system" to share information on lost children and emergencies between the staff, an "emergency contact system" to make them aware of status concerning earthquakes or other emergencies, and to offer travelers the information they need in a timely manner.