Construction Continues at Haneda Airport Int'l Terminal - New "Satellite" Taking Shape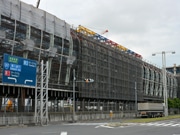 The new "Satellite" of the international passenger terminal at Haneda.
Enlarge this image
Enlarge this map
Construction on an expansion to the international passenger terminal and new buildings is ongoing at the international section of Haneda Airport in Ohta Ward, Tokyo. Meanwhile, the new "Satellite" is beginning to take shape.

Tokyo International Air Terminal Corporation (TIAT) has commissioned the airport facility expansion work. To cope with a doubling in annual international daytime landing slots from 30,000 to 60,000 at Haneda coming in March 2014, the company is expanding the building's main hall, as well as constructing the new Satellite with eight boarding gates and aircraft parking spaces. A hotel with around 300 rooms will also open, while two levels will be added to the parking garage.

Since last October, the construction work has been extending the northwest end of the present terminal building. Large cranes and heavy machinery now line the site that was aircraft parking. The overall structure of the new construction is largely taking shape, and the outer design and structure of the Satellite, which straddles a road as it extends from the main hall, are already partially visible.

After the expansion and new works are complete, the international passenger terminal will have around 50% more floor space, totaling approximately 235,000 square meters. Expansions to the check-in counters will increase the current 96 positions to 144. There are 10 aircraft parking spaces now, which will rise to 18 spaces.

The passenger terminal expansion and Satellite will partially open at the end of March 2014, while the parking garage expansion will be fully available at that time. The new hotel is scheduled to open at the end of September 2014.